Article originally published in my old (now defunct blog – forgot the password) in 2011 and an update from my 2016 list on this blog, which can be found here.
For all of us who have nothing against Christmas but aren't so much into the whole spirit of things (for whatever reason!) it can be pretty daunting to have to sit at a Christmas dinner, listen to a lot of Yuletide favorites, and gather together for the 100th showing of It's a Wonderful Life (a great movie by the way!).
So what are we to do?
Well I've managed to skip the dinners but when the Christmasy feeling permeates through everything I hear and see, I have my own way of getting my shot of Christmas while staying true to my inner scrooge — I have my personal list of Holiday movies and specials that I watch.
Now, be aware that  my criteria for what constitutes as a Christmas movie is pretty loose. For example, if it has at least two or three shots with a Christmas tree – it's a Christmas movie.
So for all of you mini-Grinches who want to say that at least you played a little part in the big party, here are ten of my Christmas viewing pleasures (in no particular order).
The Nightmare Before Christmas
Tim Burton's vision of Christmas is as weirdly wicked as any I've ever seen while still maintaining the spirit of the holiday.
Jack Skellington "The Pumpkin King" only wants to be part of the happiness that Christmas brings and so he decides to kidnap Santa Claus and deliver the joy for one night.  He soon learns that each one has their own role in life to play but that that doesn't make one part lesser or greater than another.
The Nightmare Before Christmas boasts some beautiful stop-motion animation and music while weaving a fabulous tale. This is a great movie to watch with other adults or with kids.
Die Hard 2
I originally wrote this article in 2011 and wasn't aware that there was such a controversy over Die Hard being a Christmas movie. And while after many rewatches, I do believe it fits the category, for me, the real yuletide action-classic is Die Hard 2 – there is snow, Santa Claus, and a lot of live and artificial Christmas Trees, and a Dennis Franz holiday redemption arc .
In this movie, Bruce Willis returns to kick butt and make an hour and a half of your life pass by without much incident.  Had enough of Miracle on 34th Street (?) then pop this beauty in and have fun. Have a few beers and know that in life good guys may finish last but in Hollywood they always blow up the asshole terrorists to pieces with a smile.
A Muppet Christmas Carol
I will watch anything with the muppets during the holidays only because their movies and specials usually have a family feel to it with a little cynical edge. But, the go-to classic for the season has to be A Muppet Christmas Carol.
It stars the legendary Michael Caine as Ebenezer Scrooge and Kermit and the gang as the rest of the characters in Dickens famous redemption story. Of course, the muppet gang take Dickens' work and turn it on its head, with the many sight and word gags, making it poignant but extremely entertaining and funny at the same time.
I prefer this version to both the book and the old 1950s movie version of the book that we had to watch in school. It also beats out singing along to Elvis's Christmas Album by the fireplace.
Eyes Wide Shut
Stanely Kubric's last complete film is as perplexing as its title and pretty much divides people's opinion who think it's either a masterpiece or a load of crap. I saw it twice in the theatre when it came out and many times since, so yeah, I happen to love the film. Oh, and you guessed it, it's set at Christmas time!
Due to the very divisive quality of the movie, I recommend this one for the more solitary Christmas curmudgeon.  Pop it in and figure out exactly what the hell is going on with Tom Cruise as he wanders the nights after a chilling confession from his wife, played by what was then his real-life wife, Nicole Kidman.
"It's beginning to feel a lot like Christmas" especially when you crash a party where the guests have no problems killing you for the intrusion.
Best last lines ever?
"But I do love you and you know there is something very important that we need to do as soon as possible"
"What's that?"
"Fuck."
Ernest Saves Christmas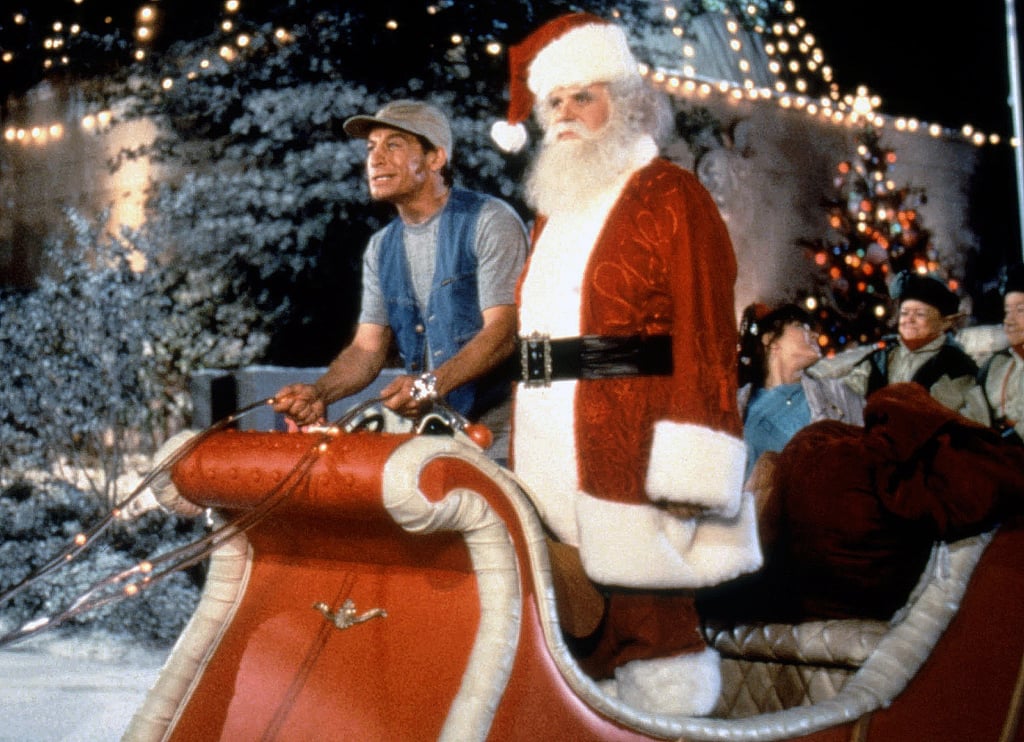 Jim Varney's, Ernest, was a cinema-god to a lot of 90s kids like myself. His Christmas movie is at the same level of stupefying idiocy as his other gems with the Ernest character and thus a favorite of mine for the holidays.
In this movie Ernest must help Santa find someone to pass the Santa torch onto, as is the tradition. Lunacy ensues, including a Santa jail-break and Ernest riding Santa's sleigh out of an airport. This movie is a trip and the sort of brain-dead fun (with heart) that I enjoy very much.
Batman Returns
This is probably my favorite holiday movie.
This follow up to Tim Burton's first Batman, feature a Dark Knight who is extremely nasty, and even murderous with a smile, as he tries to keep Gotham safe for the holidays.
The movie also features a garish Penguin, a super sexed-up Catwoman, and children being viciously kidnapped. No wonder Warner Bros. thought it best to keep Burton away from Batman after this movie, I doubt it was the family-holiday feeling they were going for.
Batman Returns is a dark pop-masterpiece with a Danny Elfman score for the ages. It still stands up to the test of time and Christopher Nolan.  It's also highly quotable:
Catwoman: It's the so-called normal guys who always let you down. Sickos never scare me. At least they're committed.
Santa Claus Conquers the Martians
Before Jack Skellington tried to steal the Christmas spirit and bring it to his own people, the Martians tried the same in this 1964 stinker of a movie.
Curious as to why the Martian children are so obsessed with Earth television, a few Martians discover that they are drawn to the distraction because their life on Mars is too rigid. So, a few Martians decide to kidnap Santa Claus so he can bring a bit of fun to the young Martian's daily routines. Two earth children mistakenly go along for the ride.
This is one of the most wonderfully bad movies of all time, so for extra entertainment value, watch it with the Mystery Science Theater 3000 cast.  I also recommend a few glasses of wine to help you along.
How the Grinch Stole Christmas
I am not going to lie, I usually fall asleep halfway through this animated movie (the pacing and the music are very slow) but I still love it.
The Grinch, in the end was just a misunderstood soul. Which of us can't relate on some level?
I like to watch this when I am feeling a little bit nasty about the commercialization of the holiday season. It helps me to remember that not everyone only thinks of the physical gifts, but the heart-gifts too.
South Park Christmas Episodes
Anything involving South Park, Christmas, turds, killer Claus, Jesus, and the Devil is an instant classic.  I am sure episodes will be shown on whatever station carries South Park nowadays or they can be easily found online.
These episodes are here to remind us that Jesus death-battling Satan is what Christmas should always be about.
Keep the spirits light with a little acidic humour.  Just don't watch these with anyone who doesn't have a thick skin.
Gremlins
While I do have more fun with Gremlins 2, the original is a holiday blast with a lot of twisted dark comedy.
If you don't know the story, it's about a boy who gets a pet for Christmas. It's a little mogwai – a mystical creature who needs to stay away from bright lights, never be fed after midnight, and definitely not get wet!!!
When some water is spilled on the little mogwai, named Gizmo, five more mogwai pop out of his back. The problem is that these are a bit more aggressive and wreck havoc in the neighborhood. This is like The Trouble With Tribbles with a light-horror and black comedy twist.
Gremlins should be on everyone's holiday list regardless of age.
So, there it is folks. This is my update from two blog posts (1) and (2) and probably my last post for the year. I hope you enjoyed it.
Please add your own list of "Not-So-Christmasy" Christmas movies in the comments section so we can all enjoy a little break from the mushy stuff.
Oh, and of course, HAPPY HOLIDAYS.
Phil
Follow me at The Bridge Point.
If you like talking about anything that entertains you, then join The Entertainment Point. Click here to become a part of the family.
If you like talking about movies on Facebook then click here.
Read how The Walking Dead became a great show again by clicking here.
Find out what Jeremy, Beverly and I watched in October by clicking here.
See how Jeremy and I, along with special guest Justin rank the Friday the 13th movies by clicking here.
See how Jeremy and I ranked the Halloween series by clicking here.